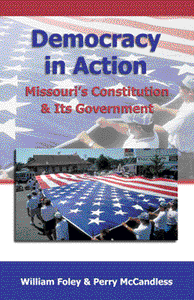 Middle school reading level. Updated, expanded edition.
This book is designed to acquaint Missouri's middle school and high school students with Missouri's constitution and government. By relating the study of basic constitutional provisions to the broader principles of democratic government, this text provides its readers with an opportunity to better understand and appreciate the purposes and working of the American governmental system.
The book is ideally suited for use in fulfilling the requirements of the state law, which mandates that all students in the state must study the Missouri Constitution. Although no attempt has been made to reproduce the entire constitution with its often detailed and complicated language, this book does identify and explain, in a straightforward and easily understood way, the more important provisions and principles contained in that document. Among other things, it examines the structure and organization of state government, the scope of governmental action, the proper procedures for exercising governmental power, and the role of the people in the governing process. This approach to the study of the Missouri Constitution should be especially helpful in providing students with an understanding of important principles and concepts that are covered in the Basic Essential Skills Test.
Includes questions & activities for each chapter, as well as an answer key in the back of the book. 96 pages. Softback. Glossary, index. 5.5 x 8.5. $12.95.